To those who have been keeping up with the latest shifts in the Traveling Terabyte Project's new hardware phase, i'm pleased to announce that i got all of the new flash drives, lanyards, and dog tags ordered today.
The final look for this new equipment will be the following color schemes...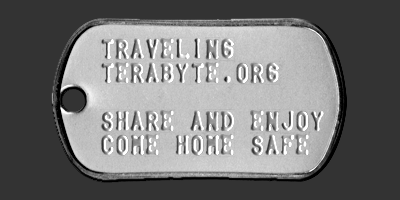 ... as i mention on
the site
, i wanted to keep the ACU-style coloring for the drive itself (like the hard disk drives and their cases in the past) but i went with a more MARPAT-inspired look for the lanyards.
i wanted to say again how deeply touched i am by all the folks in the tech community who have supported the project, by getting the word out, suggesting useful hardware, and direct contributions. i plan on making another post to
the TTB site
at some point detailing the latest donations... some of which were really, really generous.
as always, if you have a friend or loved one overseas and want them to receive a digital care package... please let me know who they are and we'll get things out to their APO or FPO address (or state-side location if their unit is not in active theater or if they're in a hospital, USO center, or other rear-echelon spot)
i am producing 50 of these new Flash Drive models for the TTB... and at 32 GB apiece, that means we're still officially a "traveling terabyte" of content, albeit one that is broken up into segments now.