Gringo Warrior will be returning to DEFCON this summer. I am not yet certain, but it may be the final year of the contest in its current form. For those who have never seen it before, we like to call it a "scenario based escape game" in which you must pick open doors, handcuffs, etc. in order to free yourself from captors.
Imagine the following scenario... you are attending
ToorCon
in San Diego
In between talks, you head outside To The Cloud for a smoke. People start discussing plans for the evening. No one can decide where to go for the best party.
Before you know it, Dan Kaminsky puts forth a suggestion...
"Let's head down to Tijuana!" he shouts. "We'll have some cheap tequila, maybe see a donkey show... it'll be great!" In a collective effort of half-formed logic and poor planning, everyone is on board with this idea. South of the border you go.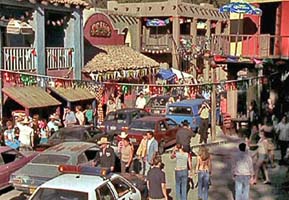 And sure enough, it's a blast. Things get into full swing and everyone's partying hard.